The Ultimate List of Best Ukuleles Under 100 Dollars 2022
The ukulele has transcended into a very accessible string instrument for people who want to get into playing a type of guitar. The attraction that comes with its fame is rooted in its ease of use and its peculiar tone that's relatively sitting at a higher register than a common six-stringed guitar. Ukuleles are commonly made in an acoustic fashion, boasting different types of wood that bolster 4 nylon strings. Its strings are tuned two and a half steps higher than that of a normal guitar, with the strings tuned GCEA from top to bottom unlike that of the six-stringed guitar's EADGBE standard tuning.
Top 7 Ukuleles Under $100
1. Enya Carbon Fiber Concert Ukulele – The Futureproof Choice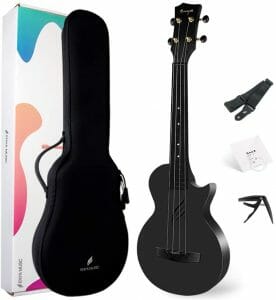 Specs:
Size: Concert
Material: 30% Carbon Fiber & Polycarbonate
Thickness: 2 inches
Weight: 1.25 pounds
Outstanding feature: WATERPROOF
Not all ukuleles are made equal, with some being made for cheap just for the sake of putting something accessible for beginners and people who attempt to take interest in the instrument alike. Make Enya Nova U different: as their ukulele offering is easily set apart from the usual run-of-the-mill non-wood ukuleles. As it may also lack in warmth, but makes up for a sleek look and a killer sound. It's very atypical for ukuleles to come in asymmetrical form, but this 30-70 carbon fiber-polycarbonate-made ukulele makes it seem so easy to pull off.
Pros
Lightweight

Waterproof

Bang for the buck
Cons
Lacks warmth

Strict with the type of strings to work with

Cut-away would make it hard to convert for lefties 
2. Kala Learn To Play Soprano ukulele – The Starter Choice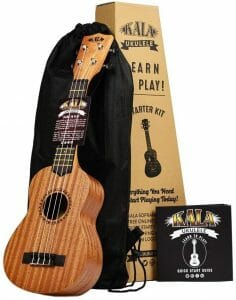 Specs:
Size: Soprano
Material: Mahogany
Thickness: 3.25 inches
Weight: 1 pound
Outstanding feature: lots of tutorials for beginners!
In the world of ukuleles, Kala is always synonymous with quality. It's a soprano ukulele bundle that's hard to beat in the line of available cheap ukuleles out there. Aside from the Aquila super nylgut strings, the bone nut made by GraphTech, the mahogany body, and the mahogany neck, the real clincher this ukulele made of mahogany bestows is the instructional dvd and polishing that it includes! The soprano size in near-perfect built quality makes this a wise buy, especially at the super low price tag it comes with.
Pros
Mahogany body and neck

Lots of printed and in-app tutorials it comes with

Great quality peripherals (nut, saddle, and tuners) 
Cons
Super entry level

Drawstring gig bag

Small size (that is, if you prefer a bigger instrument)
3. AKLOT Banjo Concert Ukulele – The Peculiar Choice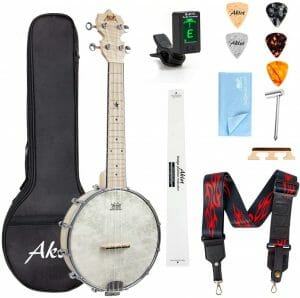 Specs:
Size: Concert
Material: Maple wood/chrome-plated steel/fiberskyn
Thickness: 3 inches
Weight: 4.22 pounds
Outstanding feature: it's a banjo – ukulele hybrid!
It's the feel of a ukulele that's mixed in well with the tone of the banjo! That's to the Remo Fiberskyn drumhead, you get good quality at a very competitive price. The package comes with a strap, a truss rud adjuster, several picks, a string action ruler, a gig bag, clip-on tuner, an extra saddle, and polishing cloth! Be amazed by its convenience of use that comes with the peculiar sound it gives off!
Pros
It sounds like a banjo ukulele hybrid

It's well crafted

The accessories are comprehensive
Cons
Not for people who don't like the twang of the banjo

Might be too complicated for beginners
4. lotmusic Baritone Ukulele – The Unique Choice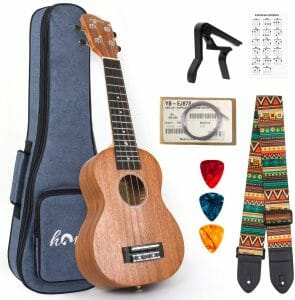 Specs:
Size: Baritone
Material: Mahogany
Thickness: 5.5 inches
Weight: 4.74 pounds
Outstanding feature: it's a rare baritone at a great price point
If you're looking for a big ukulele that's entry-level and gives a deeper sound and tone, this 30-inch beauty from lotmusic just might be for you! The package comes with a good quality gig bag, a capo, polishing cloth, a strap, and an extra set of nylon strings from Daddario. For it's size, it's incredibly lightweight, and not to mention the fact that it's a well put together set for beginners and enthusiasts alike!
Pros
Amazing price point

Great peripherals and accessories

Astounding woodwork and finish
Cons
Might be too big for some

The sound and tone is not for everyone to appreciate
5. AKLOT Concert Ukulele All Solid Bamboo – The Aesthetic Choice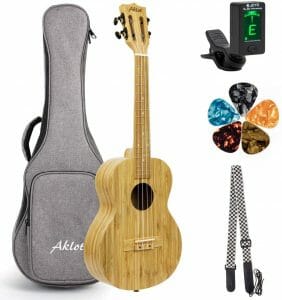 Specs:
Size: Concert
Material: Bamboo
Thickness: 4.72 inches
Weight: 3.39 pounds
Outstanding feature: rare all-bamboo build
It's not every day that you'd find a ukulele made from oriental wood that's well known for its sturdy feature and quality. The package comes with a padded gig bag, several picks, a tuner, and a strap. The quality of sound this ukulele would bring out would easily set anyone apart in a general lot of ukulele players. Also, it's pretty rare to have a ukulele be made all out of bamboo, so it's surely a show-stealer too!
Pros
Sturdier build quality

Great peripherals and accessories

Great size that's perfect for anyone to get into
Cons
If the wood isn't well dried, it might shrink and affect the quality

The sound it produces might not be for everyone
6. Kala Satin Mahogany Concert Ukulele – The Quality Choice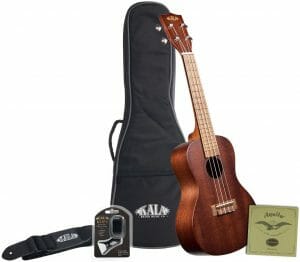 Specs:
Size: Concert
Material: Satin Mahogany
Thickness: 3 inches
Weight: 0.035 ounces
Outstanding feature: great quality at a very affordable price
There is a reason why we have two Kala entries on the list: the one prior is the one for ultimate beginners and this one is for the ultimate best choice. Coming with an all-Kala set of accessories from the padded gig bag, to the tuner, and even the strap, getting the price at exactly $100 is a sure steal. It even comes with an installed and extra set of Aquila Bionylon strings that make it harder for this buy to turn down. Also, have we mentioned the very exquisite Satin Mahogany finish that makes it look super elegant?
Pros
Great accessories and peripherals

Great price point

Great instrument quality and build
Cons
You may look for something more refined and this isn't it

Peripherals may be expensive to replace when broken
7. Caramel Zebra Wood Tenor Electric Ukulele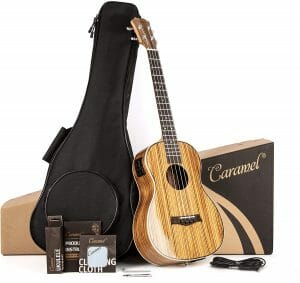 Specs:
Size: Tenor
Material: Zebra Wood
Thickness: 4.5 inches
Weight: 4.24 pounds
Outstanding feature: electric compatible capabilities and rare tonewood
This Zebra Wood Tenor Electric Ukulele is the one of its kind in our list – with it being the only entry that offer's an electric compatibility while also being made out of a rare tonewood. The package comes with a truss rod wrench,several picks a cleaning cloth, wall hanger, replacement bridge pins, a guitar cable, a strap with pegs, and a padded gig bag. It's made of great quality – with the exotic tonewood having a high gloss finish and is edged with Xylonite to make the instrument more sturdy. It's a cheap ukulele that's made to last, especially with it's additional features taken into consideration.
Pros
Rare tonewood and great accessories

Electric compatibility

Great build and finish
Cons
Tone and sound might not be for everyone

Finish may look cheap for some
Tips
If the list above still has you scratching your head, the following tips just might help in clearing the air out. Have a read through below!
Never go lower than $50
Tempting as the price may seem, it definitely wouldn't make up for sound. It also doesn't help that you can't try the instrument since you're buying it online. The main takeaway here is that there's no point in buying a ukulele with no longevity – as once you get more used to it you'd figure out that it sounds bad and you'd want to replace it immediately
Buying something under $100 would never be premium
Don't expect $300 quality if you're willing to cash out as much. These ukuleles above would have their own peculiarities, but it stands more on small parts of the aesthetic rather than that of messing with the general tone and sound. These include run-ons with the glue, imperfect wood cuts, or things being a bit shaky or loose, but all these would surely be playable nonetheless.
Don't overthink it, it's just a ukulele!
Despite having so many rules to follow and think about, everything we have on the list above is a sure pleaser that brings satisfaction guaranteed. It may not be as amazing as the instrument your favorite artist would use, but these entry-level ukuleles know how to charm their way out in terms of having super close quality in terms of tone and sound. So don't obsess on thinking, just cop yourself one and start making music!
FAQ
So before you go out and pick that ukulele that you think is perfect for you, here are some factors to consider and keep in mind as you try and get started on figuring out the perfect iteration of this instrument for you!
The eternal struggle of price vs quality
Getting things at the best possible quality means that you're willing to shell out the optimal amount of money to achieve those expected premium results. When purchasing a ukulele, the material that actually drives the price up and down is actually the wood it's made out of.
Aptly called the "tonewood", it makes up for much of the sound the instrument can make, with the instrument's shape, size, and string material only falling behind it. Clearly, having yourself a non-wood ukulele would make the entire conversation different but it's common knowledge that most of those are not at par with traditional tonewood-made ukuleles. To give you a clearer vision, having a ukulele sit at the $25 to $50 price range can only go so far as to get you a toy ukulele that's more of a prop than an instrument. But at $50 to $100, there are some great choices to check out, try, and eventually be acquainted with.
Circling back, what are tonewoods?
As we have been previously talking about how tonewoods make up for most of the ukulele's "great sound" that it gives off, with the choice of having softwood for the top and hardwood on the side. This balance would ultimately comprise how a ukulele's volume and tone would sound like. To give you a better idea, below are some common types of wood that are used by luthiers to make ukuleles:
Cedar – It's perfect for baritone ukuleles as it can give off a very bass-heavy tone that's very natural
Spruce – Its light color is a good metaphor for how it sounds – crisp, bright, and clear. Take a spruce-made guitar if you're looking to use it on intimate occasions and events
Rosewood – This vibrant sounding wood is often used to make fretboards, but is now actually material used to create ukuleles that easily cut through the higher frequencies.
Redwood – Being hard to find, redwood is actually one of the more expensive types of woods you can use to build a guitar (and it's definitely out of the $100 or below range). It's perfect for players who have gotten a good grasp of the instrument, as it's resonant and warm tone easily compliments masterful and intricate playing
Mahogany – It's one of the more common tonewoods used to create ukuleles given its ability to produce clear and loud sounds that can keep a warm tonality. It's your all-around tonewood that never disappoints.
Koa – Aside from its very peculiar grain, it's a common tonewood used in Hawaii where most traditional ukuleles originated from. It offers quite a unique sound that's just as charming as it looks
There's also a laminated option.
Given that we're currently playing at a relatively cheap price range, it's not so surprising for us to see some ukuleles be made from laminated wood. These types of wood are made by having cheap wood be covered or "laminated" by a more expensive tonewood. The sound it creates borderline mimics that of the tonewood it's laminated from, but is drastically changed by the chunk of cheap wood in the middle.
Ok, we got the wood. But what about the sizes?
The different sizes of ukulele exist because people are also accustomed to playing different sizes of instruments. Some prefer having less or more frets on their guitar, while some just like holding a larger or smaller body of the instrument they're currently playing. Every size also gives off a different yet unique sound, each with its own signature tone. Let's get to it.
Baritone – This is the largest size of ukuleles available, boasting 18 frets at a length of 30 inches minimum. Its sound is relatively richer and deeper, not to mention the fact that it's definitely not the size that you'd want for kids to play with
Tenor – It's a ukulele that has 15 to 25 frets with lengths that start from 26 inches that only goes longer from there. It's the perfect size to buy when you're a well-versed guitar player, as the size allows for easier conversion of skill and a wider option of builds to choose from
Concert – these are one of the more common sizes, boasting at least 15 frets which start at a length of 21 inches and above. It's best for people with large hands that can't play the soprano too well, as it also offers better volume alongside the more versatile playability.
Soprano – the smallest of them all that is considered to be the best for beginners, it only has about 12 to 15 frets while only being roughly 21 inches long. It's perfect for people who want to casually get into playing or for instrument enthusiasts who are a bit skeptical of the instrument and just want to try it out.
Verdict
My personal top 3 include the Kala Satin Mahogany Concert Ukulele, the AKLOT Banjo Concert Ukulele, and the Enya Carbon Fiber Ukulele.
Kala is easily on the top as it offers a no-fuss instrument that offers the best sound at the best possible value. Getting yourself a Kala under $100 is a no-brainer steal, making its affordable price, the Aquila strings, the gig bag, the clip-on tuner, and the strap a solidifying reason to purchase it.
The second pick would be the AKLOT Banjo Concert Ukulele, hands down. For this piece, it could only stand on being disqualified or too good to be true. Luckily enough, it went for the latter. Offering a different take of the familiar at a very affordable price, any owner of this piece is instantly a true winner.